IN April, 25 Generation Z (born between the mid-1990s and early 2010s) students from 23 countries and regions embarked on a cultural exchange tour along the Silk Road, an ancient trade route connecting China with the Middle East and Europe.
The tour, known as "Generation Z 2023: The Future of the Silk Road," aimed to foster cultural exchange among young people from around the world and to explore the story of the Silk Road. It was hosted by the China Public Relations Association (CPRA) to celebrate this year's 10th anniversary of the China-proposed Belt and Road Initiative (BRI).
Kicking off April 6 at the National Museum of China in Beijing, the tour took the members to the cities of Luoyang in Henan Province, Weinan in Shaanxi Province and Dunhuang in Gansu Province, where they immersed themselves in Chinese culture and explored historical sites along the ancient Silk Road.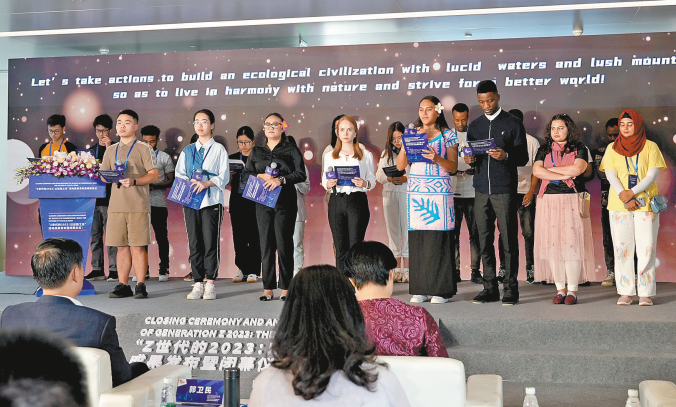 Four representatives of the Silk Road tour participants and local students propose an initiative on advocating low-carbon and eco-friendly lifestyle at Saturday's ceremony at the Ping An International Finance Center in Futian District.
During the expedition, the participants were invited to cook a banquet, compose a song, create a Chinese painting and plant trees, the results of which were showcased at a closing ceremony at the Ping An International Finance Center in Shenzhen's Futian District on Saturday.
"Young people are the main catalyst for global development and play an important role in the dialogue among world civilizations," Guo Weimin, chairman of CPRA, said at the ceremony. "Through this event, we hope to attract international youth to China, promote greater mutual understanding between China and foreign nations, and empower the younger generation to contribute to building a community with a shared future."
Road to sustainable future
At the ceremony, four representatives of the Gen Z participants, along with 15 students from Shenzhen, proposed an initiative on advocating a low-carbon and eco-friendly lifestyle.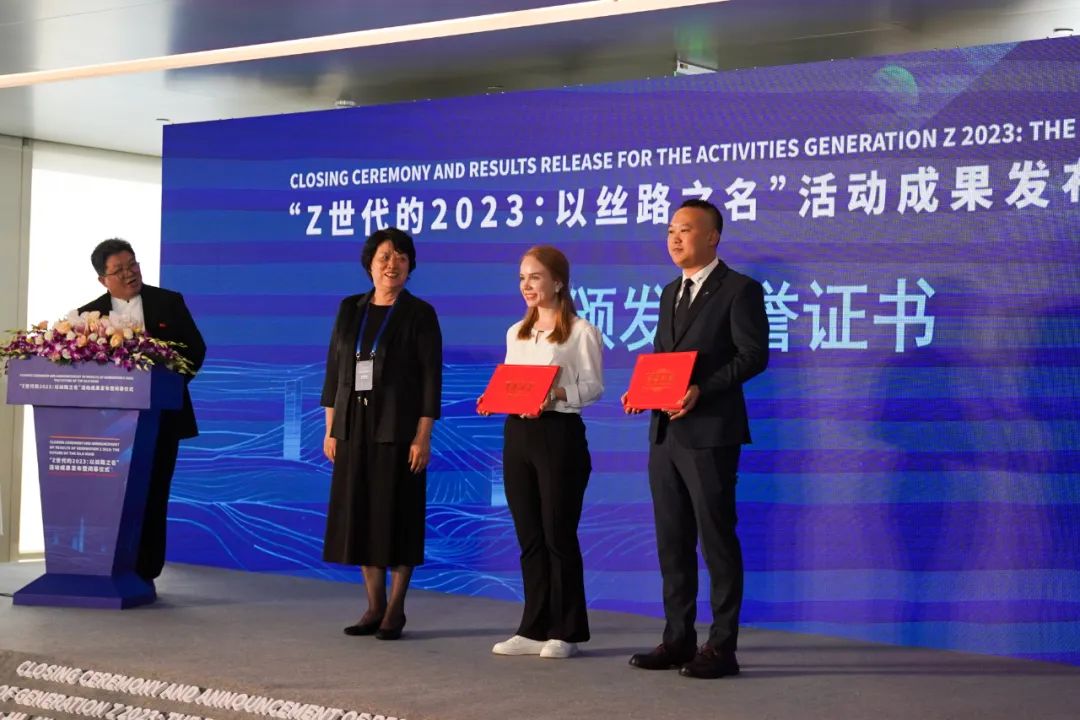 Angelina Sanzharovskaya (2nd R) from Kazakhstan receives a certificate as a representative of Gen Zers who cooked a banquet in Shaanxi's Weinan City at Saturday's ceremony.
Prior to the ceremony, the Gen Zers gained hands-on experience in environmental protection and food waste reduction by clearing invasive plants at the Futian Mangrove Ecological Park and participating in a clean plate campaign at the Southern University of Science and Technology.
While visiting the mangrove park, Visinia Anamaria Faasoesa Ranadi from the Independent State of Samoa, who is now a student at Tiangong University in Tianjin, fondly recalled the mangrove forests of her homeland.
"From a very young age, we learned that we need to protect mangroves because they not only are an important part of the wetland ecosystem, but also can protect us from natural disasters," she said. "It is a good idea to build a world mangrove center in China, given the country's advanced technology for environmental protection."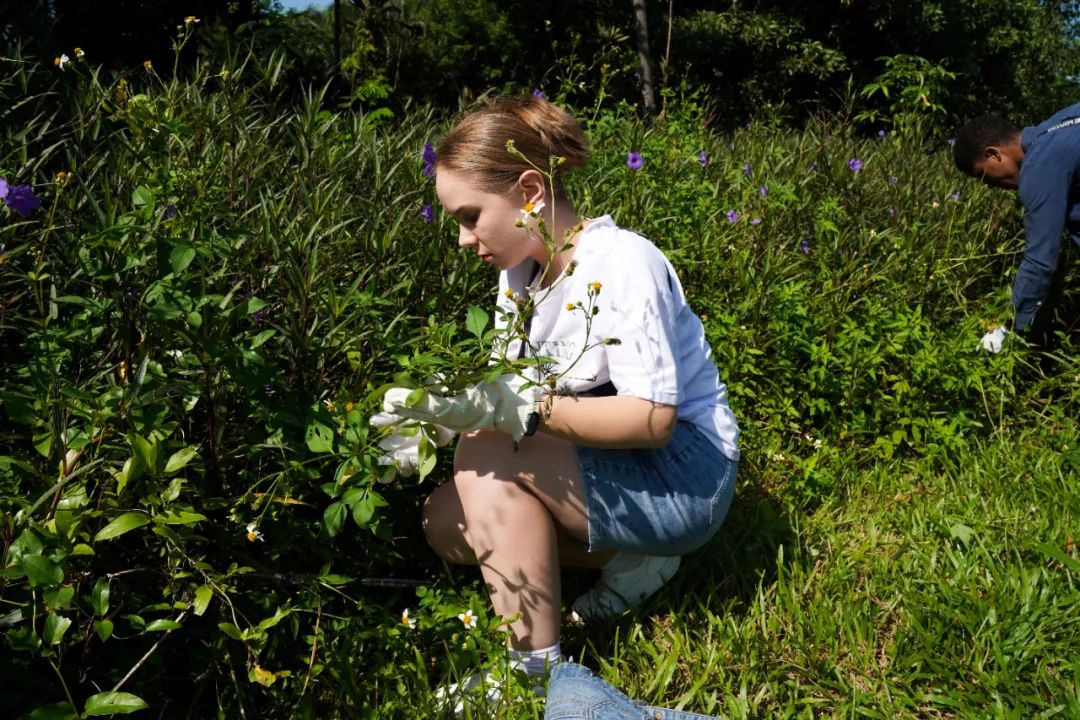 Angelina Sanzharovskaya from Kazakhstan clears invasive plants at Futian Mangrove Ecological Park on Saturday.
Road to discover China
The Silk Road tour is a testament to how this historic trade route, which facilitated the exchange of goods and culture between the East and West thousands of years ago, continues to foster friendship, deepen mutual understanding and strengthen people-to-people exchanges in the modern era.
Saturday's ceremony unveiled a Silk Road-themed banquet jointly created by the Gen Zers and renowned Chinese chef Dong Zhenxiang. The banquet reflected their culinary exploration during their trip to Luoyang this April.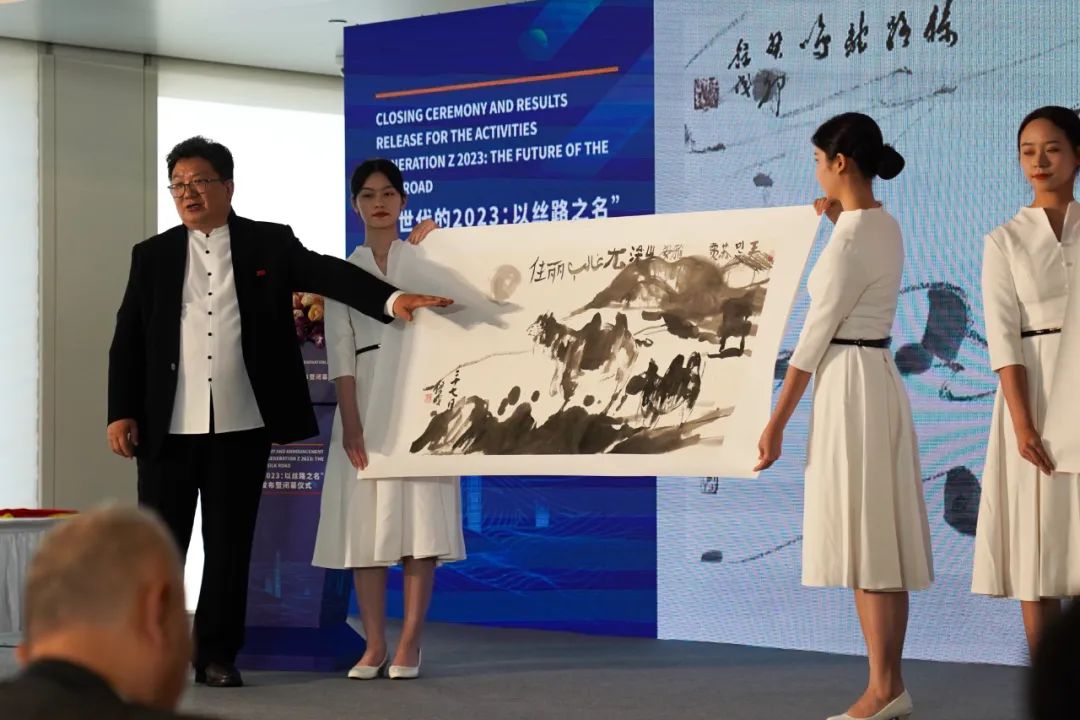 A Chinese painting jointly created by the Gen Zers and artist Zhang Lucheng is shown at Saturday's ceremony.
The meal included various dishes such as yellow croaker yusheng (a raw fish salad), Italian-style buckwheat rolls and flatbread soaked in watermelon juice, showcasing the fusion of Western gastronomy with Chinese cuisine.
The Gen Zers' exploration of Laoqiang Opera in Weinan resulted in the creation of a song called "In the Name of Youth," while their visit to the Mogao Grottoes in Dunhuang inspired them to create a Chinese painting with freehand painter Zhang Lucheng. They also participated in a tree-planting event in Weinan.
Jia Xu Poulivaati from the Kingdom of Tonga, a Ph.D. student at the Beijing University of Science and Technology, did her part in the painting. "I painted some of the sand dunes," she said.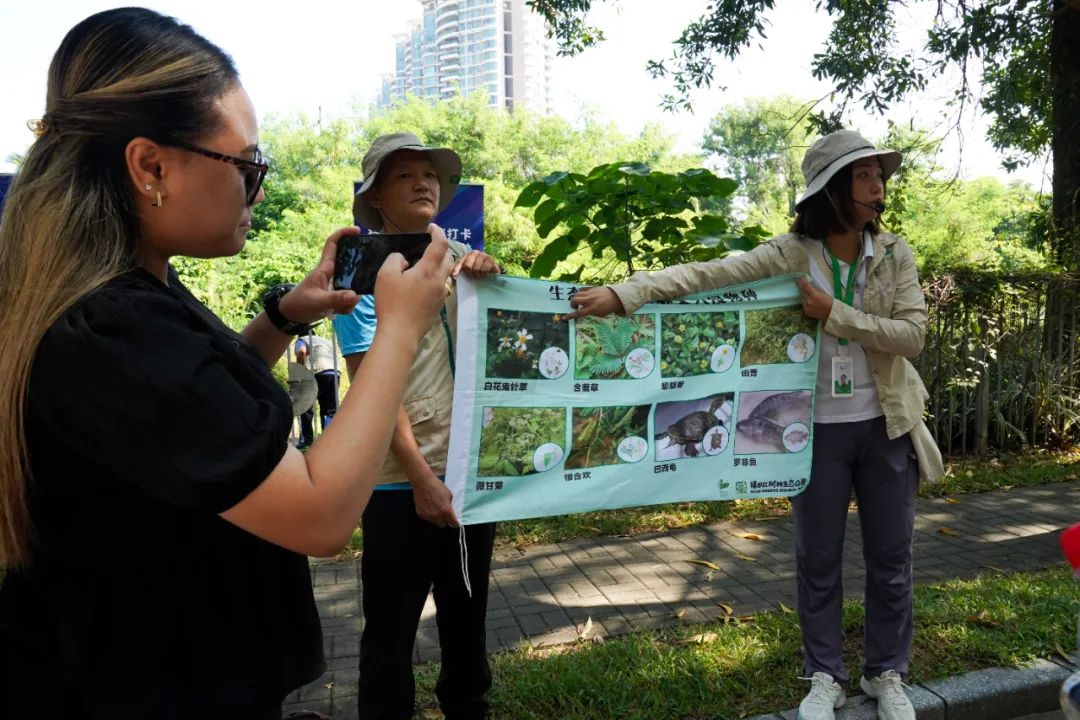 Jia Xu Poulivaati take a photo of MCF staffers introducing commonly seen invasive plants in Shenzhen at Futian Mangrove Ecological Park on Saturday.
Road to strengthen ties
Among the Gen Z participants of the Silk Road tour, many come from BRI countries. They told Shenzhen Daily that the initiative has substantially enhanced the socioeconomic development of their home countries.
"China has helped my country build a power plant utilizing green technologies," said Angelina Sanzharovskaya, a Kazakhstani student studying at the School of International Relations at the Beijing International Studies University. "What's more, in my hometown Almaty, you can also see people driving [China-made] Chery cars and drinking Chinese bubble tea."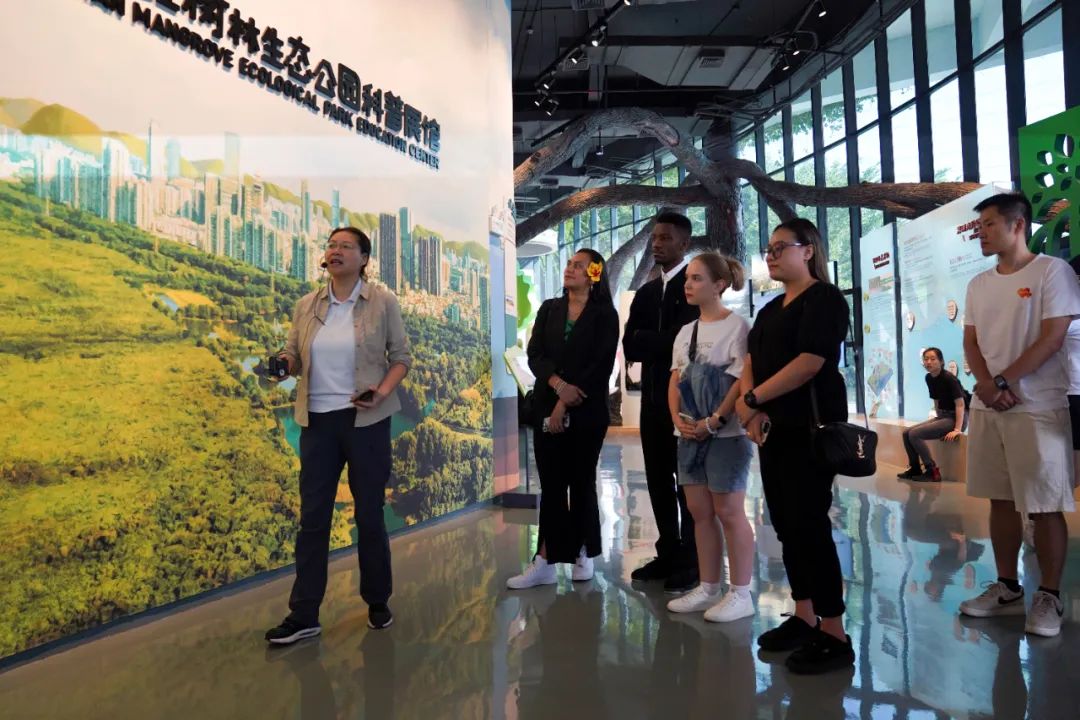 Some Gen Z participants listen to an introduction of the Futian Mangrove Ecological Park.
The power plant she mentioned is Zhanatas 100-megawatt wind power plant in Kazakhstan, which is operated by China's State Power Investment Corporation and the largest of its kind in Central Asia.
Syton Peter Chawinga, a Malawian student majoring in teaching Chinese as a second language at the Shanghai International Studies University, said China has supported his country a lot in poverty alleviation, infrastructure construction and the import and export of goods and services. He hopes to work as a Chinese teacher in his home country after graduation.
Also at the ceremony, Ping An Biodiversity and Environmental Conservation Charitable Trust was established, with a donation of 10 million yuan (US$1.37 million) by the Shenzhen-based Ping An Foundation. The trust, the first of its kind in China, is dedicated to promoting sustainable development and providing assistance for damages caused by unforeseen events such as disasters and public health emergencies.