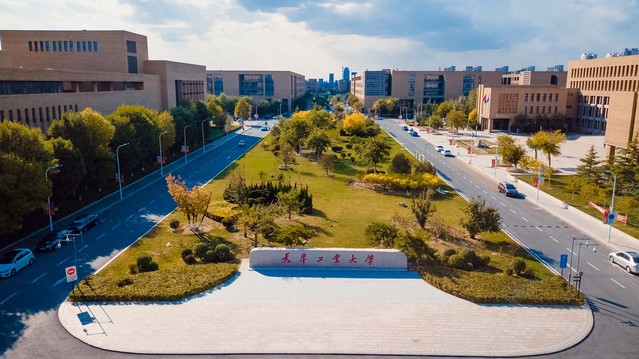 Tiangong University (TGU) is a state-run full-time institution of higher education, which is jointly established by the national Ministry of Education and Tianjin Municipal Government.
The university has a long history with its earliest departments established in 1912.It began to run independently in 1958 as "Hebei Textile and Engineering School",which was changed to "Tianjin Textile and Engineering School" in 1968. It was not renamed as "Tianjin Polytechnic University" until the year 2000 and then "Tiangong University" in 2019. In 2017, the university has been selected as the national "Double First-Class" world first-class discipline construction university. Now TGU has developed into a multidisciplinary engineering university with coordinated development of engineering, sciences, management, economics, laws and arts.
The campus covers 480 acres with a built-up area over 860 thousand square meters. The university has 25 schools, 67 bachelor programs, 39 master programs, 6 doctoral programs and 3 post-doctoral mobile research station, among which there are 6 state-level characteristic majors, 15 Tianjin brand majors and 6 majors with the Engineering Education Professional Certification.
Tiangong University has more than 1,600 full-time teachers, over 900 teachers with senior professional post. And more than thirty thousand full-time students study in TGU, among whom 24,000 are undergraduates and 5000 are postgraduates.
Besides, the university owns a national key laboratory for separation membrane and membrane process, a national-level international joint research center, a national-level local joint engineering research center, 1 demonstration base for training innovative talents of the Ministry of Science and Technology and key laboratories and engineering research centers supported by Ministry of Education. As a national key discipline, Textile Science and Engineering won A+ in the fourth-round evaluation held by Ministry of Education, and there subjects, such as Engineering, Chemistry, Material Science, are ranked as world Top 1% by ESI.
TGU has established long-term friendly and cooperative relations with more than 110 universities or institutions in 60 countries, carrying out virous exchange activities such as education seminars, academic exchanges, scientific research cooperation and so on.
Upholding the educational philosophy of "both teaching and researching, knowledge and ability developing together", insisting the school motto of "Rigorous, Strict, Practical, Truthful" and promoting the spirits of "Loving University and Highlighting Morality, Persevering and Acting Earnestly, Pursuing Practicality and Innovation", the university will vigorously implement the strategy of "Running the school with high quality, Strengthening the school with distinctive features, Constructing the school with talents, and Managing the school according to law". With educating people as its priority and revolution and innovation as its power, Tiangong University will make persistent efforts to pursuit a goal of constructing a high-level polytechnic university with world-class discipline.