Tiangong University began to use Panya online teaching platform in August 2015. In the past four years, the platform has a total of 4946 teacher data and 39656 student data. Among them, 747 teachers participated in the construction and teaching of classes, covering 38 departments. There are 2125 courses on the platform (including Erya courses), with a total of 5139 classes, 247666 students and 10838574 visits to the platform.
Tiangong University has been using the intelligent tree network teaching platform since 2014. There are 5 online courses in our university: "Entrepreneurship Management-Easy to Learn and Practical in Knowledge", "Entrepreneurship Marketing- Practical Guide to Business Novices ", " Legal Service for College students Entrepreneurship ", "Creative Thinking and Methods", "Textile and Modern Life". Among them, "Textile and Modern Life" offered by the Institute of Textile Science and Engineering and "Entrepreneurship Management-Easy to Learn and Practical in Knowledge" won the title of "2018 National Excellent Online Open Courses".
Our university together with Beijing University of Technology and Hebei University of Technology join hands to build an online curriculum platform sharing teaching resources to explore the mechanism of cross-school credit recognition. The curriculum-sharing platform of Beijing-Tianjin-Hebei Universities of Technology has the curriculum construction module and realizes the cross-school co-construction, realizes mutual recognition in network credit and the inter-school credit. Teachers can teach online, sharing teaching resources between different schools. The platform has teaching resource database with e massive resources , study and teaching space to realize the interaction between inter-school teachers and students, and the mobile client to realize mobile teaching and learning. The platform can fully meet the needs of industrial colleges and universities in Beijing, Tianjin
and Hebei to share high quality curriculum resources.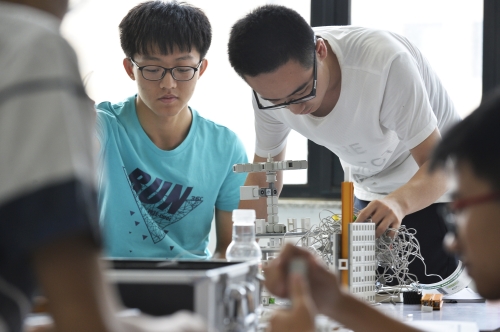 The experimental teaching demonstration center and the engineering practice education center are important teaching bases for cultivating students' practical ability and innovative spirit. There are four national experimental teaching demonstration centers and 4 virtual simulation experimental teaching demonstration centers, and 9 national engineering practice education centers. There are 11 municipal experimental teaching demonstration centers, 3 municipal virtual simulation experimental teaching demonstration centers and 4 candidates for municipal experimental teaching demonstration centers .
In recent years, students have won over 800 awards at provincial and ministerial level every year in discipline competitions. In 2018 Evaluation Results of Discipline Competition among General Universities(Bachelor), which was published by the Chinese Society of Higher Education, the university ranked 55th.
Since 2012, there have been 369 national projects , 534 municipal projectsand 1116 university projects, with 6136 students participating in the program. They have won the Advanced Unit for the implementation of the 2012 / 2014 National Innovation Training Program and the Best Organization Award for Local Colleges and Universities on the 10th Anniversary of the National Innovation and Entrepreneurship Program.
The National Teaching Achievement Award is the highest award conferred by the state every four years in the field of teaching research and practice. The award has been established since 1989 with three grades: special prize, first prize and second prize. Tianjin Municipal Teaching Achievement Award, earlier than the national teaching achievement award, is conferred every four years. The award is divided into two grades: the first prize and the second prize. The Textile higher Education Teaching Achievement Award is launched every two years. The award is divided into four grades: grand prize, first prize, second prize and third prize. It has been established since 2009. Tiangong University has won 6 national teaching achievement awards, and 163 Tianjin municipal teaching achievement award and higher education teaching achievement award for textile. Since the "12th Five-Year Plan"(2011-2015), the university has won 1 national teaching achievement prize,21 provincial teaching teaching achievement prize and 89 textile and higher education teaching achievement prize for Textile. The university has won 19 Tianjin Famous Teachers Award since 2003 when this award was first initiated.